Description:
Functional Overview:
Solid aluminum alloy chassis, brushed panel.
Quad-core ARM Cortex-A55 professional processor.
6" large LCD colour touchscreen, easy control.
Based on Android 11, a deeply tailored system.
4GDDR+32GeMMC large memory for masses of applications.
Support M.2 NVME 3.0 SSD (not included), up to 2TB.
2xES9038Q2M DAC for independent stereo decoding.
Support DSD512 Native, PCM768KHz@32Bit, MQA full decoding.
The 3rd generation XU316 for higher performance and processing speed.
Low-jitter dual clock synchronous processing with higher accuracy.
Fully balanced circuit, XLR balanced and RCA single-ended hi-fi pre-out.
2x DOH chips, support HDMI DSD Native and D2P multi-channel output.
Qualcomm QCC5125 Bluetooth 5.0 module with APTX HD.
Low noise, high-quality power supply, providing a pure power source for audio circuits.
Support mastering audio formats DSD (.dsf/.dff/.ios/.dst), APE, FLAC, WAV, MQA, etc.
Personalized music management, lyric matching and music data matching.
EOS audio engine developed by Eversolo, globally bypassing SRC restrictions.
Support Direct audio in 3rd party APPs (Apple Music hi-redirect output).
Full decoding and rendering support for MQA on Optical, Coaxial and USB input etc.
Support USB, Optical, Coaxial, and HDMI digital audio Bit-perfect output.
Support external USB optical drive for CD playback and CD ripping.
Music services Tidal, Qobuz, Highresaudio, Amazon etc.

(Support Roon Ready - Currently Under Certification Process),

Spotify Connect, Tidal Connect, etc.
Support music playback from Air Play2 and DLNA.\
Support NFS, SMB, Web DAV, and UPnP protocols to access storage devices shared in the LAN.
Support built-in SMB network media sharing service for easy local media sharing.
Exclusive mobile APP for Android/IOS mobile phones and tablets.
Specs
---
Model: EVERSOLO DMP-A6
Display: 6" LCD touchscreen
Internal Memory: 4GDDR4 +32GeMMC
DAC: ES 9038Q2M*2
Audio Processor: XMOS XU316
Op-amp Chip: OPA1642
Power Supply: Low noise, high-quality switching power supplies
HDD Bay: M.2 NVME 3.0 2280 protocol, up to 2TB
USB-A Port: USB3.0*2
Ethernet: RJ-45(10/100/1000Mbps)
WiFi: WiFi 2.4G+5G dual-band
Playback and DAC: Support up to stereo DSD512, PCM 768KHz 32Bit, MQA
Decoding: Music Service
Streaming: Tidal, Qobuz, Highresaudio, Amazon, WebDAV, UPnP
Bluetooth Audio  Input: AirPlay, DLNA, Roon Ready, Spotify, Tidal Connect, Qobuz Connect etc.
USB-C Audio Input: Bluetooth BT5.0, support SBC/AAC/aptX/aptX LL/aptX HD/LDAC
USB Audio Compatibility: Windows (7, 10), Mac, Android, IOS Optical/Coaxial
Support up to stereo: DSD512, PCM 768KHz 32Bit, MQA   Audio Input
Support up to stereo: PCM 192KHz 24Bit, DSD64 Dop, MQA Optical/Coaxial
Support up to stereo: PCM 192KHz 24Bit, DSD64 Dop, MQA  HDMI Audio Input
Control Method: DSD64 Native multi-channel/PCM192KHz multichannel raw output
XLR Output Audio: Mobile App and Touch screen control
RCA Output Audio: Output level: 5.2V
Frequency response Characteristics: 20Hz~20KHz(±0. 15dB) 
Dynamic range: > 128dB
SNR: >128dB
THD+N: <0.00009%(-120dB) @A-wt
Crosstalk: >-125dB
Output level PSU: 2.6V 
Frequency response: 20Hz~20KHz (±0. 2dB)
Dynamic range: > 124dB
SNR: >124dB
THD+N: <0.00011%(-119dB)@A-WT
Crosstalk: >-124dB
Rated Power: AC 110~240V 50/60Hz
Dimensions: 13W  L187mm* W 270mm* H 90mm
Packing List: Power cable*1, USB cable*1,Screwdriver*1,user manual*1
A NEW EPOCH IS BEGINNING
With years of development, DMP-A6 has reformed traditional streamers by solving pain points across the industry, it implies the beginning of a new epoch. DMP-A6 is an all-in-one player, with quad-core processor and large memory, tailored for lossless music playback. Rich digital input and output ports, HDMI DSD multi-channel output, dual ESS903802M professional DAC, fully balanced differential circuit and professional audio tuning, all of them contribute to the superior performance of DAP-A6. Unprecedented experience is offered to music lovers with music streaming services, local music management, mobile APP and exclusive control system.
SELF-DEVELOPED EOS AUDIO ENGINE
EOS (Eversolo original sampling-rate audio engine) is developed by Eversolo engineers, with the support of outputting original sampling rate, that is, audio playback completely bypasses the Android SC restriction, supporting the Direct audio output of third-party apps (Apple Music hi-res Direct output).
MASTER RECORDING PLAYBACK AND DECODING
Almost all ultra-high sampling master recording formats are supported by DMP-A6, including CD-quality formats (FLAC, WAV, APE), DSD512 (.dsf/.dff/.iso/.dst) stereo/multichannel and MQA etc.
LARGE LCD TOUCHSCREEN FOR BETTER USER INTERACTION
Equipped with a large 6* LCD high-definition touchscreen, DMP-A6 has a professional streamer system, simple but exquisite user interface, as well as on-screen intuitive touch controls for system settings, local music library and third-party apps, it runs smoothly as a mobile phone.
DOH CHIPS FOR HDMI DSD MULTICHANNEL
As a multi-channel streamer, DMP-A6 adopts DOH processing chips for HDMI audio especially to play and output master DSD music. Except for the support of DSD Native multi-channel raw output and D2P output (PCM multi-channel output) decoding, it also provides regenerated high-precision independent clock for HDMI. So that it can also be used as a digital turntable.
INTERNAL HIGH-SPEED M.2 SSD SLOT
A M.2 NVME 3.0 2280 SSD slot is built in to install SSD without removing the cover, the maximum storage is 2TB. Faster, stable and no noise, it is the key for local high-quality music playback.
LOW RIPPLE HIGH PERFORMANCE POWER MODULE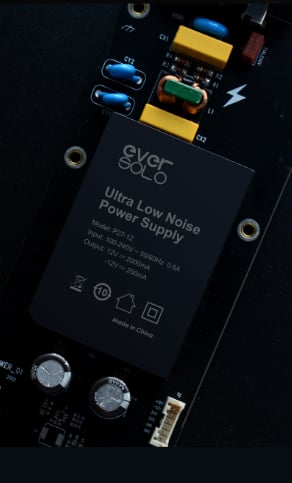 The DMP-A6 is equipped with a low-noise regulated switching power supply module and several dedicated audio capacitors with less ripple and interference. Choke filter circuit is specifically made for AC input, reducing high-frequency line noise in the region of 100 KHz to 5 MHz, ensuring cleaner power, a softer background noise, and clearer musical details.
RICH INPUT AND OUTPUT PORTS
DMP-A6 can be used as a digital turntable to connect with various high-end decoding devices by digital output ports including HDMI, USB, Optical and Coaxial. As a decoder, DMP-A6 can connect with audio source equipment like PC and mobile devices by Coaxial, Optical, Type-C inputs and APT HD Bluetooth. XLR and RCA outputs are to connect with active speakers or power amplifiers.
3RD GENERATION XMOS 316 AUDIO SOLUTION
With 3rd generation XMOS 316 audio processor, DMP-A6 has faster speed and higher USB bandwidth, ensuring the lossless transmission of high-definition audio data. USB port supports DSD512 Native, PCM768@32bit and MQA full decoding. Optical and Coaxial ports support DSD 64 (DoP), PCM192@24Bit.
LOW JITTER DUAL CLOCK PROCESSING
Low-jitter high-precision dual clocks are designed for DMP-A6. Two high-precision crystal oscillators (45.1584MHz and 49.152MHz) respectively correspond to 44. 1KHz and 48KHZ multiplied sampling, effectively reducing jitter and achieving more precise audio decoding.
FULLY BALANCED PREAMP CIRCUIT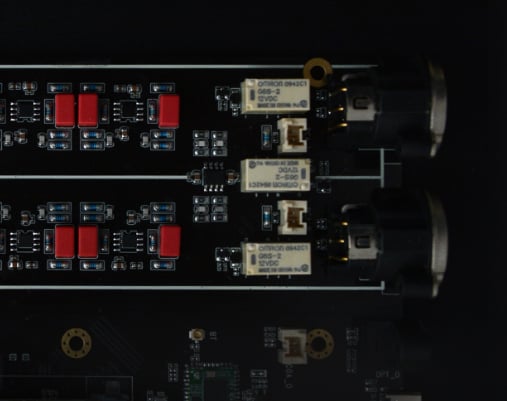 DMP-A6 analog circuit adopts fully balanced design from DAC chip to the XLR and RCA stereo output. It provides better noise immunity, improves channel separation by eliminating shared loops for stronger and more consistent signal quality.
2X ES 9038Q2M DAC DECODING
2xES 9038Q2M are used to establish Double Differential Quadruple Converter for DMP-A6 DAC decoding. Two DAC chips correspond to two channels for D/A conversion output independently. So that it effectively avoids the interference between channels, reduces the background noise, obtains better signal-to-noise ratio, and greatly improves the dynamic range and other audio indicators. Supporting DSD512, PCM768@32bit, and MQA hard decoding.
PROFESSIONAL TUNING AND RELIABLE AUDIO INDICATORS

The DMP-A6 has been expertly tuned, and the circuit has been thoughtfully constructed, thanks to the wealth of knowledge from engineers at Eversolo who have been actively involved in the audio industry for many years. THD+N is -120 dB (0.00009%), SNR is 128 dB and dynamic range is 128 dB. The leading indicators provide a strong base for high sound quality.
QUALCOMM QCC5125 MODULE
The Qualcomm QCC5125 Bluetooth audio receiving module used by the DMP-A6 supports BC/AAC/aptX/aptX LL/apt HD/LDAC and is compatible with Bluetooth 5.0. Connecting with mobile phones, tablets, and laptops via Bluetooth allows for simple music playback and CD-quality sound.
DMP-A6 includes MQA (Master Quality Authenticated) technology which enables you to play back MQA audio files and streams, delivering the sound of the original master recording.
MUSIC SERVICES AT YOUR FINGERTIPS
The DMP-A6 incorporates popular music services like Tidal, Qobuz, Highresaudio, Amazon music etc. You can take advantage of numerous high-quality online music services and revel in the allure of limitless streaming music.

Support for numerous third party APPs, high resolution audio Direct output using the original EOS engine.

WIRELESS MUSIC STREAMING

(Support Roon Ready -Currently Under Certification Process) Connect, Tidal Connect, DNA, and AirPlay are supported by the DMP-A6. High quality music can be streamed online to mobile devices in the same LAN, make it simpler to enjoy online music services and easier to play back music at home.
MUSIC LIBRARY FOR LOCAL PLAYBACK
Eversolo Music Library not only provides excellent local music playback performance but also greatly improves user interest in music management. It can add music files from a local hard drive or network storage and automatically retrieve music metadata from the cloud to build a custom music library by matching artists, albums, local CUE file arid so on; songs are displayed in categories based on genres, albums, artists and sample rates; making a list of your favorite songs and searching for them by album, artist, or song initials.
MULTIPLE NETWORK PROTOCOLS
DMP-A6 not only has two high-speed USB 3.0 ports, an SSD slot for local storage expansion, but also supports NFS, SMB v1/v2/v3, and UP sharing protocols, allowing users to browse and play multimedia content saved on NAS or network drives connected in the same LAN with gigabit network. Even high data rate DSD512 master files can be played without stuttering.
EFFECTIVE MEDIA MANAGEMENT SYSTEM

The DMP-A6 offers a robust media management system that enables editing operations for local hard drive and network storage like copying, copying, pasting, cutting, deleting. USB OT port can be configured as USB OTG, making it easy to connect the PC to DMP-A6 via USB cable for local file copying and management. Internal SMB sharing function allows to share media files from connected mobile device or internal SSD to other media plavback devices computers or mobile devices in the LAN. So that DMP-A6 can be used as a network storage device to share audio audio sources at an time.
CD PLAYBACK AND RIPPING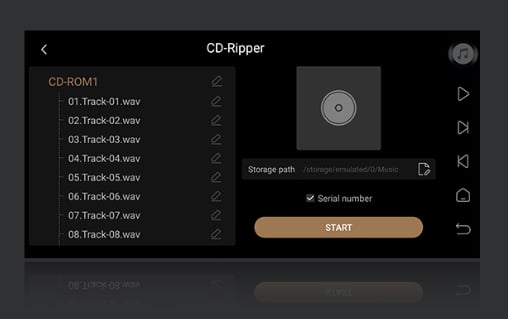 The DMP-A6 allows for CD playback by connecting an external USB optical disc. CD Rip APP adopts a data validation mechanism and error correction function to save audio data from CD losslessly. The application's algorithm intelligently matches CD album and song names (officially released CDs are required), losslessly rips tracks and automatically generates album and artist info.
SMART CONTROL APP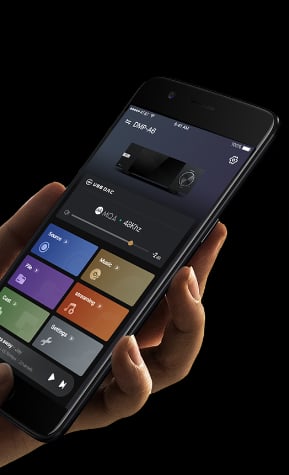 Android/iPhone/iPad control apps are developed for the DMP-A6. In addition to basic playback control and system settings, they also support asynchronous viewing of music library data and menus, which is convenient for music playback and data searching. Screen mirroring is also supported by installing third-party APP.
DIGITAL FILTERS MEET DIFFERENT PERSONAL PREFERENCES

The DAC setting of the DMP-A6 provides seven types of digital filters, with different modes corresponding to different sound characteristics, which can be switched according to personal preferences.
PERSONALISED VU METERS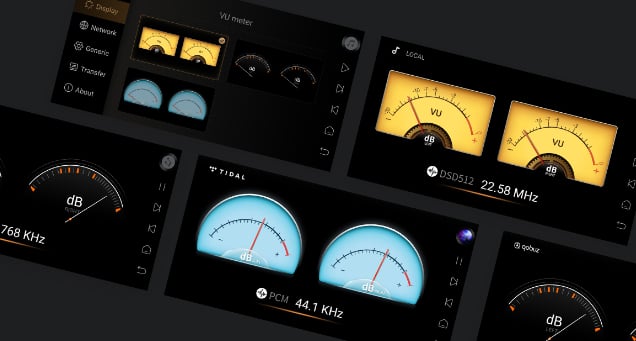 A wide range of personalized dynamic VU meters are tailored for audiophiles. A wonderful interactive experience is offered with real-time full-format music display, including DSD.
ALUMINIUM CHASSIS UNIQUE APPEREANCE
The DMP-A6 is made from aviation aluminium and features a NC machined body for a solid construction. The brushed panel and frosted anodized body are a great combination of classic and modern elements to suit the preferences of experts.
HI-RES AUDIO
The DMP-A6 is Hi-Res Audio certified by JAS, with superior sound quality.
---
Slick
I'm enjoying my new EVERSOLO DMP-A6. Nice piece of Kit! Amir was a pleasure to deal with and I definitely will return and do business with him again:)
Eversolo Streamer - Worth your consideration...
Like many people, I read and watched the many glowing reviews of the Eversolo DMP-A6 Streamer. I was looking for a streamer for my second system which sits in my living room. Up to this point that system was vinyl only. I wanted a streamer because flipping records every 20 minutes or so is a bit of a pain when you're entertaining, which we do frequently. I was also looking for a streamer that was easy to use. If it required opening an app on a phone or tablet, my wife would never use it. What caught my eye about the Eversolo was the beautiful display. More on that in a moment. Having the display and functions available right on the front of the machine made it an attractive choice.
I had seen the reviews and the price seemed to be very competitive. I reached out to SummitHiFi and they could not have been more helpful. After calling me back to answer all my questions, I put in an order. I had the DMP-A6 in my hands in just a few days - and with free shipping to boot.
After hooking it up to my McIntosh MA-5100, I can say that the reviews were not lying. This thing is incredible! The first thing I noticed, obviously, is the beautiful display. It's a good size and presents the information in a useful, yet elegant format. The DMP-A6 can be used without any need for a separate app. It does have an app and a very good one at that. It's just that it's not needed. Now even my wife and 11 year old daughter are exploring new musical worlds. Very happy about that. As for the box itself - it feels like it was machined out of a solid block of aluminum. I don't think it was but it feels that sturdy. It's a very high-end feel, fit and finish. Kudos to Eversolo.
Of course the best (and most important) part is the sound. I had seen all the reviews talk about how good this thing sounds for its price point. In my opinion, they did not exaggerate at all. The sound stage is wide and the imaging is absolutely stunning. My secondary system sits in our living room. It's a room that couldn't possibly have worse acoustics with 19' ceilings and oddly positioned walls. In spite of these shortcomings, the Eversolo DMP-A6 presents a very detailed image of the music. I can sit in front of the stereo and clearly "see" the position of all the instruments. I can get this with my primary system because that sits in an acoustically treated room. I had never had this kind of imaging on my secondary system. It brought such a smile to my face. Fantastic.
I found the sound so compelling I actually reached back out to SummitHiFi and bought the Master Edition version of the DMP-A6 for my primary 2 channel system to replace the Bluesound Node that was there previously. Although the Node is a great little streamer, especially for the price, the Eversolo beats it in every conceivable way. The soundstage is wider and deeper with incredible imaging. Musical detail beats out the Node as well, though by a slightly lesser degree than the soundstage.
If you are a serious audiophile, I'm sure you can find even an even better streaming experience by paying several multiples more for a stand alone device. If you're an entry-level to mid-level audiophile I can honestly say this streamer will not disappoint. What it achieves for the price is unbelievable.
All in all I cannot recommend this streamer or SummitHiFi enough. They were a joy to work with and the Eversolo is getting near constant use in my home. I don't think you can get much higher praise than that.
Superb service from Summit
The A6 delivers all it promises in terms of functionality and sonic quality. (I pair it with a Merson Frerot DAC). Upgrades offer frequent improvements. I've found the mostly graphic manual lacking and run into confusion using multiple control devices (the app on my iPhone, on my iPad, my computer and the remote control) that I can't understand or resolve. So guidance in the manual or online would be helpful. Overall, a terrific value, with the potential to add an ssd for storage of ripped cds (my next step).
Great Unit
Arrived safe and sound and works wonderfully.
Eversolo DMP- A6 Streamer (In-Stock) No Tax